Hey guys!
Okay, so…I have a bit of explaining to do. You may have noticed that I haven't posted on here for like a week or more. Now, please listen to my pathetic excuses.
First of all: ASSIGNMENTS UGH THE WORST. I've had a LOT of tests and assignments that were all piled into the space of about two weeks and I was stressing so much that I didn't even have time to think about my blog let alone actually post on it.
Then my computer broke and I had to take it to my schools IT people so they could fix it and I really couldn't be bothered to log in to WordPress because, yes, I'm a lazy potato.
And my final excuse: I had MAJOR writers block. Literally I had no inspiration for any posts and I didn't want to create anything that I wasn't putting my all into.
But now I'm back and I'm actually going to try commit to this, although I can't make any promises.
So to get back on my feet I thought I'd start off with a good old favourites post since August has just ended. Let's go!
First off I'm starting with TV. After a lot of begging, my sister and I finally convinced our parents to get Netflix so for the past month I have been watching it non-stop. The first thing I watched, which I finished the last season for the other day, was Orange is the New Black. Oh my fucking God. It was just amazing. I was hooked with every episode and found myself getting excited for after school so I could come home and watch it. If you love comedy, drama and basically anything good then you should definitely watch this. (P.S for those of you who do watch it: OH MY GOD THE LAST FEW EPISODES OF SEASON FOUR KILLED ME WHAT WILL HAPPEN I DON'T KNOW I JUST NEED TO FIND OUT I DON'T THINK I CAN WAIT UNTIL NEXT YEAR AHHHHHH!)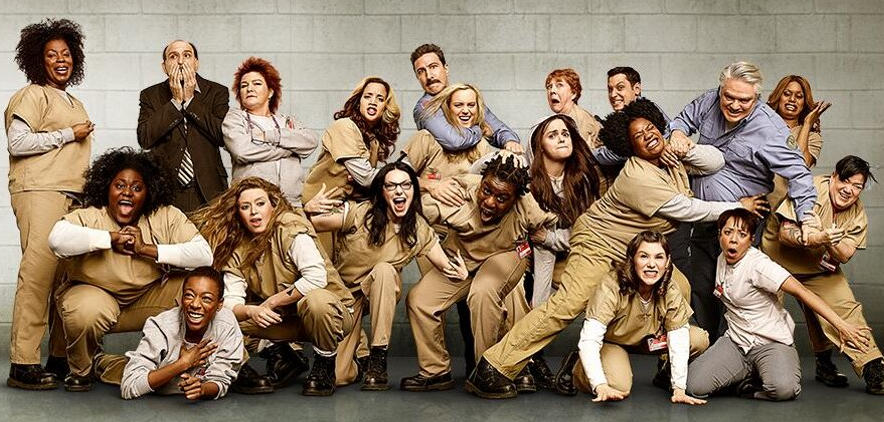 Another TV show I've been loving, which Ash got me hooked on is Supernatural which is just GREAT. I'm only episode 9 of season 1 but I love it so much all ready. As you can probably tell from the title, it's all about supernatural beings and these two guys who hunt them down and kill them. It's so thrilling and a bit scary sometimes but it's so good. Also, the guys in it are super hot.
My final TV show is something quite relevant at the moment and might receive some eye rolls from some of you, but don't judge me okay! I've been watching the original Pokemon series….
I thought I told you not to eye roll!
Honestly it's one of the best things ever and it's so nostalgic because I remember when everyone had the Pokemon cards and we all enthused about the TV show. If you remember Pokemon and you l0ve anime then this should be high on your to-watch list.
Now onto the book I really liked this month which was Pieces of Sky by Trinity Doyle. It was so dramatic and there was so much romance, I just loved it! It was super enjoyable and made me cry a few times but it was fantastic, definitely a recommendation. Also, the cover slays, am I right?
And my last favourite is something that one of my favourite teachers, I'll call him Mr B, introduced to my Religion class. For our RE assignment we had to make a photo journal about the seven sacraments but some of us wanted to do it online and he did some digging and found this website called Adobe Spark where you can make amazing presentations, videos and edits that are just fascinating. I used it for my assignment and I was so happy with the result and I think I will definitely use it again in the future. Now, you may be thinking, don't you usually have to pay to use Adobe? Well, for Adobe Spark, you don't! It's completely free and crazily easy to use. Just thought I'd share this for some of you who are still in school and have to make annoying presentations and crap.
Damn, I should get sponsored by these guys, I'm giving them so much promo.
And that's it for my favourites!
Have a lovely, lovely day and I'll see you soon (hopefully).
Love always
Jags xxx